The Interwoven & Forensic Center Clinical Training Program
Eligibility
Masters and doctoral-level students from The Chicago School's Forensic, Counseling, Community Mental Health Counseling and PsyD programs are eligible to apply for practicum training. Applicants should have an interest in community and forensic mental health, although, trainees may choose to weight their training experience toward forensic or non-forensic work. Most trainees seek a blend of cases and find their experience most enriched by highly diverse caseload. Each year our training cohort of 7 – 9 includes masters and doctoral therapy and diagnostic practicum trainees.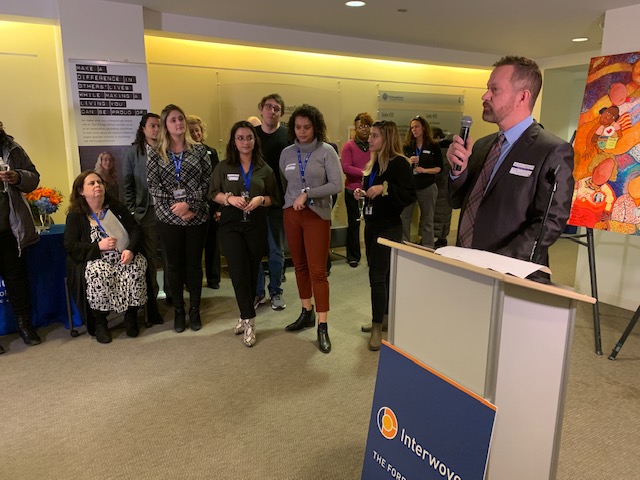 The January 2020 launch ceremony for Interwoven Community Counseling Center
Serving a Richly Diverse Client Population
As a community mental health center, Interwoven draws referrals from across Chicago and reflective of city's diversity. The Forensic Center is a leading provider of services ordered by the Cook County Domestic Relations Court. The Outpatient Fitness-to-Stand-Trail Restoration Program provides trainees to the opportunity to work with person found incompetent to stand trail due to a mental illness, cognitive impairment, or both. Together, these three referral streams provide trainees with a richly diverse caseload with an emphasis on serving primarily less advantaged, under-served communities. Recently, Interwoven initiated mental health services at a near-west side, low-income, housing development, thus, providing an additional opportunity for community based-work.
A typical trainee caseload might include the following types of cases: court-ordered family therapy, therapeutic supervision visitation, or reunification therapy; court-ordered individual therapy for adult, teen, or child; one or two fitness restoration; and a mix of individual cases through Interwoven.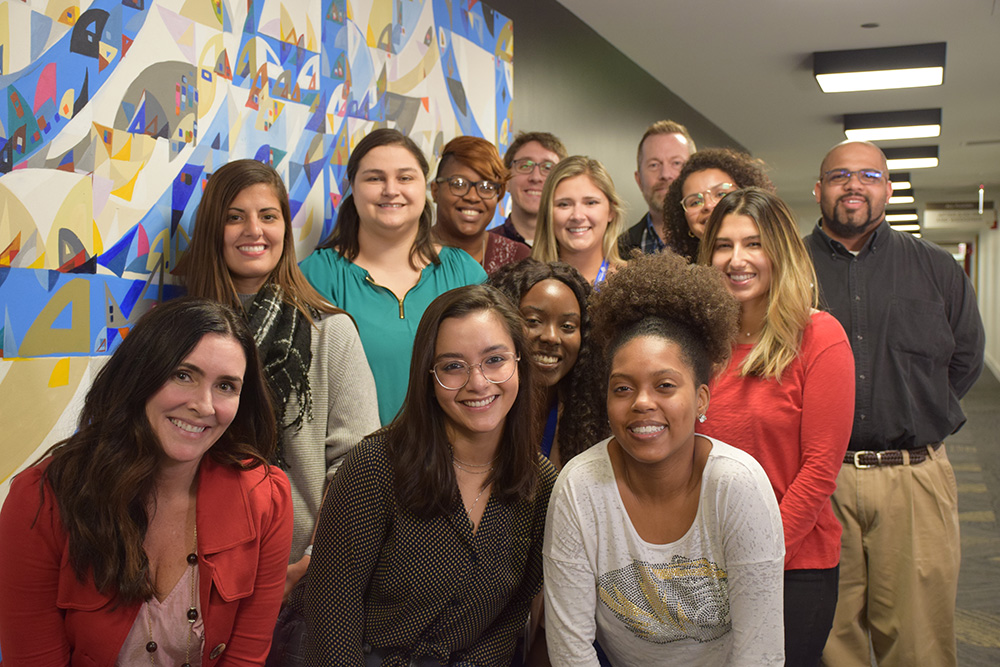 The 2019-20 team of student trainees, clinical supervisors, and staff
High Quality & Accessible Clinical Supervision
Our training program emphasizes providing trainees high quality supervision that is easily accessible. In addition to formally scheduled supervision, including weekly supervision with a primary supervisor and two group supervision meetings, trainees have access to our team's other clinical supervisors. Supervisors maintain an open-door policy and welcome the opportunity to provide consultations and other guidance.
State-of-the-Art Clinic and Training Facility
Our Center houses various features and technology which greatly enhance the training experience. We have three observation rooms with one-way windows to provide trainees the opportunity to observe supervisors perform clinical work and for supervisors to observe trainees working with clients. In addition, these observation rooms provide technology for audio and video recording of sessions. These recordings allow the trainee to evaluate their own work and development and allow supervisors to virtually assess trainees and provide constructive guidance.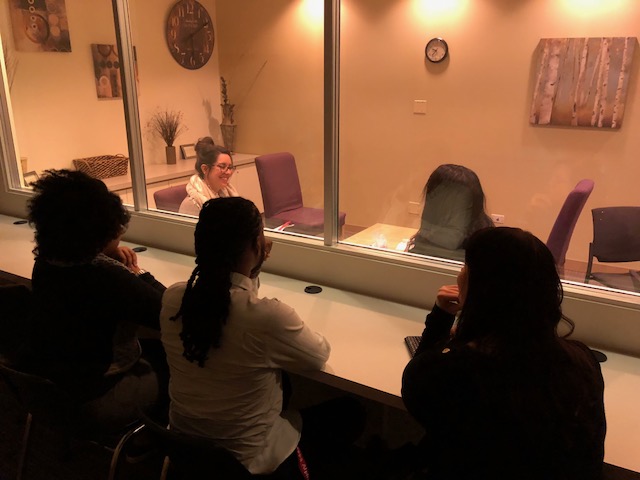 Student trainees develop clinical skills by observing counseling and evaluation sessions using one of the Center's three, one-way window observation rooms
Training Process
The Chicago School Office of Professional Training (OPT) determines many aspects of the application process. Our Center is listed on the OPT roster of potential training sites, and OPT can advise on all aspects of submitting a practicum application. The application should include a CV/resume, cover letter, transcripts (unofficial accepted), and a writing sample.
Trainees Who Thrive
Good personal organization and time management skills
Gets along well with others and is willing to help out without being asked
Open to feedback
Approaches individual and group supervision with intention and a high level of engagement
Is self-reflective, committed to increasing ability to self-assess, and can identify what guidance they need from supervisors
Is flexible
Has a sense of humor
Practices self-care and brings their best self to practicum each day
Why train with us?
Interwoven is a terrific place to choose for your training placement, even if we say so ourselves. Practicum trainees serve an incredibly diverse client populations in fulfillment of our mission. Of course, trainees are assigned a primary clinical supervisors, but on any given day they can seek support, guidance, and consultation with five to six other supervisors under our supervision open door policy. For students seeking forensic training, The Forensic Center is one of the most comprehensive forensic mental health services in the Midwest, and for those seeking primarily a community mental health experience, Interwoven represents TCSPP's commitment to serving the community and at the same time emblematic of the school's emphasis on the engaged practitioner and applied practice. After all, we are engaged practitioners located amidst the campus, surrounded by students in classrooms, faculty, and all of the riches of our academic setting.